Firefighters use Augmented Reality in CA
Here is a news article featuring AR in connection with contextual mapping. The Firefighters use Augmented Reality in CA battle.
CEO and co-founder Adam Kaplan, EdgyBees, provides a contextual mapping to distributed teams to manage blazes.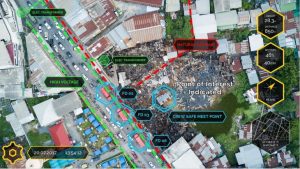 https://www.zdnet.com/video/vr-ar-and-mr-whats-the-difference/
"The unique nature of fighting fires necessitates the use of knowing the precise locations of teams, equipment, and potential hazards," he told me.

"EdgyBees augments live video feeds with geo-information layers, including maps, building layouts, points of interest, user-generated markers, and more data layers that provide visual context and operational intelligence."

According to Kaplan, the technology can be conceptualized by imagining a sports broadcaster chalking up a play on the screen.

EdgyBees permits the relay of information like that between parties, effectively acting as a two-way radio for visual information.
Source ZD Net link for full story and video